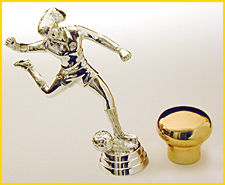 For companies using vacuum metallizing or sputtering processes, we offer a complete line of basecoats and topcoats for all injection and compression molded plastics and metals. Companion topcoat dip dyes are also available.

In an increasingly demanding marketplace, JEMA has provided metallizers with coatings fully compliant with local and national VOC (Volatile Organic Compounds) regulations

JEMA provides both the formula and the processing know-how to enhance customer productivity and quality. Extensive knowledge of substrates, pre-treatments, application methods, and cure cycles enable maximum throughput with low reject rates. JEMA continues to offer conventionally formulated products for those processors who have installed VOC containment or whose operations are in exempt areas.
Some of our core products for metallization are:
Base Coats:
| | |
| --- | --- |
| 2N53.3 | UV cure base coat for vacuum metalizing/sputter suitable for most plastics. |
| 3035 | Conventional solvent based varnish basecoat. May also be used as a top coat. |
| 4L100.1 | DTP (Direct to Polypropylene) 2 Component bake used with 4L101.3 |
| UV-138A | DTP 2 Component UV cure basecoat used with UV-138-B |
| 6202 | Water based baking basecoat with excellent flow and chemical resistance. |
Top Coats:
| | |
| --- | --- |
| 3042 | Solvent based varnish with excellent flow and leveling. |
| 3092 | Solvent based varnish, non-yellowing, with excellent durability. |
| 3088 | Solvent based acrylic lacquer, non-yellowing water white durable finish. |
| 1096 | Water based acrylic lacquer with excellent flow. |
| 9860 | UV solvent based low VOC topcoat with excellent adhesion, chemical and mar resistance. |
| 4056 | PolyAcrylic car quality clear coat with excellent flow and scratch and chemical resistance. May be used as a single component, or specifications enhanced when used with Hardener 4901. (May be purchased in regular or "heavy" formulas. |
Please email us for more information at jema.american@verizon.net